We invest money to make money–that's a simple fact.

The primary goal of Sustainable, Responsible, Impact investing is to earn market returns, but for some investors, their non-financial goals may also be very important. Can SRI investments meet both goals and remain a viable, competitive option in the marketplace today?

During the last 30 years, the investment industry has seen a boom in the use of SRI strategies, so much so that it's now become part of global, mainstream investing. Demand for SRI is on the rise as more and more people realize the power they have when aligning their dollars with an organization's intent.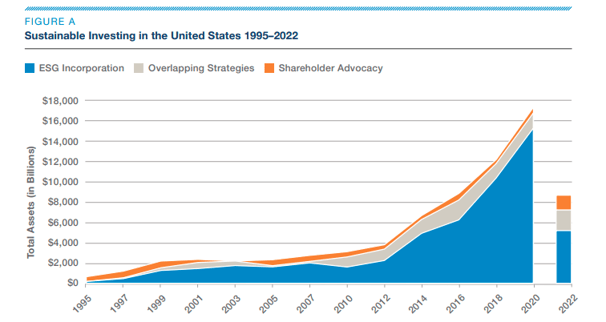 Source: "Report on US Sustainable, Responsible and Impact Investing Trends", US|SIF Foundation, 2022
The caveat to this rise in popularity is that investing firms have been able to use buzzwords, specifically around the ESG framework, without backing them up. So much so that the US Sustainable Investment Forum (SIF) changed its reporting methodology for the 2022 SRI Trends report from previous years after finding that assets under management (AUM) of investment professionals and firms "stated that they practice firmwide ESG integration but did not provide information on any specific ESG criteria they used (such as biodiversity, human rights, or tobacco) in their investment decision-making and portfolio construction".(2)

The positive side is that this interest has multiplied the options available. Unlike 30 years ago, today's investors may choose from hundreds of SRI mutual funds and exchange-traded funds (ETFs). Nearly all equity asset classes are represented with all U.S. capitalization sizes–i.e., small-cap, mid-cap, and large-cap stocks–plus international and emerging markets.

Offerings within fixed-income securities represent a growing area of SRI investing, allowing investors to finance projects that reduce the environmental impact of an industry. With all of the options available to you, it is important to be careful to choose an investment firm that can back up its claims about SRI/ESG integration, but we'll go more into that later on.

There is a clear demand for SRI, but how do its investments perform when it comes to meeting the primary goal of earning returns? A growing body of academic research suggests that choosing SRI investments has not had a negative impact on investment performance. In fact, a 2021 review of academic studies conducted by the independent researcher Morningstar found quite the opposite:
In 2021, 57% of Morningstar's ESG indexes outperformed their non-ESG equivalents,
over a five-year period (ended Dec. 31, 2021), 80% of Morningstar ESG indexes outperformed their non-ESG equivalents,
and over the same five-year period, 88% of Morningstar ESG indexes lost less than their broad market equivalents during down markets as measured by the downside capture ratio.(3)


Ebbs and Flows Within the Market
It is important to note that no investments, including SRI investments, are immune to market shifts. Though there tends to be less downside risk for SRI funds, they are still influenced by the economic environment, which in 2022, was not great for the stock market as a whole.

The rapid rise in interest rates prompted declines in both bonds and equities, a phenomenon not seen in 150 years.(4) The result was a resounding investment shift away from growth funds (which prioritize long-term potential with the understanding that stocks may be more expensive, but with low or no dividend) toward value funds (stocks trading cheaply, often paying relatively higher dividends, and accepting that this may mean comparatively lower growth), and SRI stocks tend to inherently fall under the growth fund category. That said, SRI funds still outperformed traditional funds in the growth category: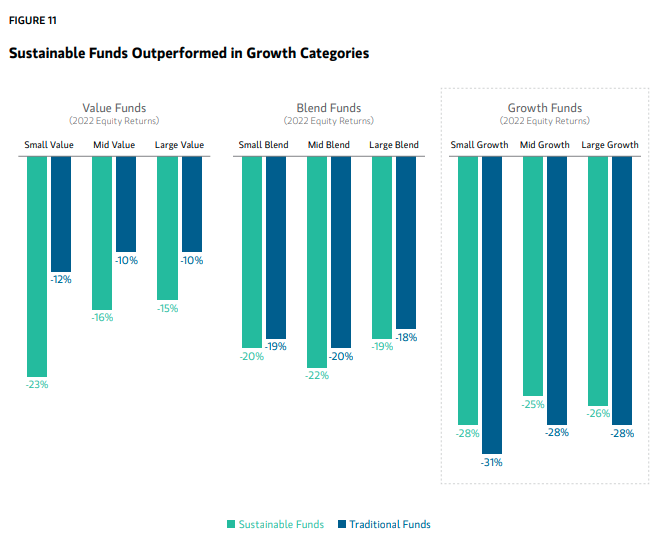 Source: "Sustainable Reality: Despite Challenging Market Conditions in 2022, Investor Demand for Sustainable Funds Remains Strong," Morgan Stanley Institute for Sustainable Investing, 2023.
Even with all of the extraneous circumstances, SRI funds still outperformed traditional funds in net positive inflows, which indicates that SRI funds as a whole hold steady, even in an unstable economy.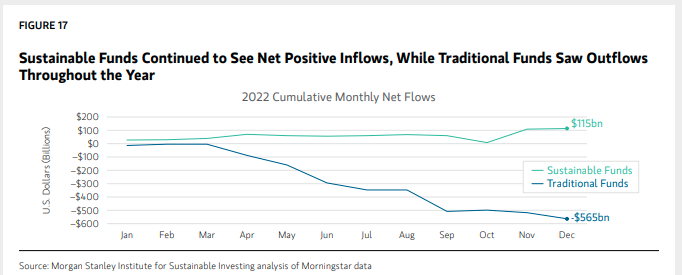 Source: "Sustainable Reality: Despite Challenging Market Conditions in 2022, Investor Demand for Sustainable Funds Remains Strong," Morgan Stanley Institute for Sustainable Investing, 2023.


DOES IT MAKE A DIFFERENCE?
If SRI investments have performed just as well as non-SRI investments, that begs the question, how well has SRI met its non-financial goals? Can your investment choices really make a difference?

They can when done en masse. Client demand/investor pressure was a major driver in advancing sustainable investing practices for asset managers from 2020 to 2022.(1)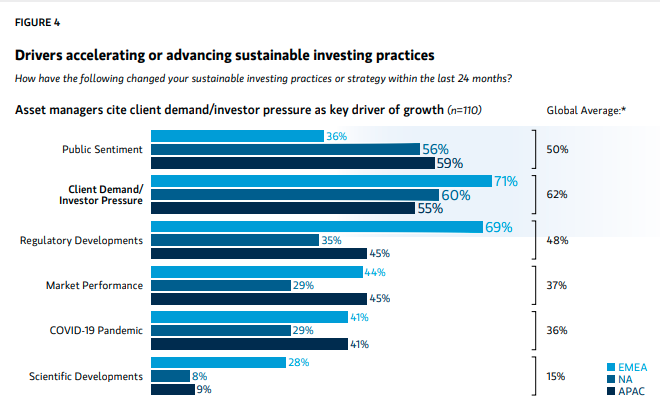 Source: "Sustainable Signals: Opportunities for Asset Managers to Meet Asset Owner Demand"
Morgan Stanley Institute for Sustainable Investing, 2022
Again, the financial industry has seen a significant influx of money going into SRI investments with 31 percent growth since 2018.(5) This demand is driven in part by the younger generation of investors entering the market. People under 40, Millennials and Gen Z, now make up 46% of all investors in the US, and this demographic is especially passionate about investing in their values; over 8 in 10 Millennial and Gen Z investors reported that they would accept a less than average return on their investment if it was in a company that aligns with their beliefs.(6) Minorities are also far more motivated to invest in the causes they believe in to promote positive social change.(6)
Women are also big supporters of SRI, which is significant given that they are expected to control much of the $30 trillion in financial assets that Boomers currently possess, compared to the $10 trillion (roughly a third) that they currently control, by 2030.(7) This is largely due to the simple fact that women tend to live roughly 5 years longer than their male counterparts, and in heterosexual relationships, many men will cede control of these assets to their female spouses.

These three emerging investor groups–young people, minorities, and women–could soon control a significant portion of the financial assets in the U.S. Imagine the change that could happen if we decided collectively to only invest in companies that were good stewards of the earth, upheld gender equality, promoted diversity and inclusion, and treated their employees and communities well. Companies that don't follow fair and sustainable practices could lose out on more than half the population of investors, and their stock prices could drop. Investors should not underestimate their power.