1. Negative Screening
Negative screening is perhaps the easiest strategy to understand: your values are represented by what you choose not to invest in. Negative screening is the exclusion of sectors or companies involved in activities or industries deemed unacceptable or controversial. Your impact is felt by the dollars you withhold. For example, you might exclude all companies that manufacture, distribute, and sell sporting firearms, weapons, and guns.
2. ESG Investing
ESG investing is a philosophy and methodology. It emphasizes environmental, social, and governance as the main criteria for gauging the sustainability of an investment. It does this by explicitly including the following ESG data into investment decisions:
Environmental: Issues relating to the quality and functioning of the natural environment and natural systems.

Social: Issues relating to the rights, well-being, and interests of people and communities.

Governance: Issues relating to the management and oversight of companies and other entities.
These non-financial factors are considered alongside the goals of avoiding undesirable behaviors or reducing portfolio risk.
3. Positive / Theme Investing
Positive or theme investing is the opposite of negative investing in that investments are selected that specifically relate to what is deemed positive or sustainable. For example, you might invest your dollars only in companies that utilize renewable energy, producing no greenhouse gas emissions from fossil fuels. Companies that endorse the CERES Principles (Coalition for Environmentally Responsible Economies) have formalized their dedication to environmental awareness and actively commit to an ongoing process of continuous improvement and systematic public reporting.
Another component of this strategy is to employ gender lens investing. A gender lens incorporates gender-based considerations to accomplish the goals of improved returns, reduced risk, and the promotion of gender equality. It typically means using your capital intentionally to benefit the advancement of women or girls. For example, you might choose to invest in loan programs that support women entrepreneurs in developing countries, or you might want to invest in companies that are working hard on gender equality and have more than one woman on the board and have equal representation in senior management.
4. Shareholder Advocacy/Activist Investing
Shareholder Advocacy or Activist investing focuses on the rights of shareholders to bring about change to a company's policies and operations. As a shareholder, you become eligible to vote by proxy. Shareholder resolutions and proxy voting are tools used by some funds to influence a company's decisions to take action on certain issues. Meaning, if large numbers of like-minded individuals purchase shares and/or obtain seats on the company's board, then change can happen.
5. Impact Investing
Although making an impact is certainly the goal by definition of SRI, impact investing has a specific focus. It invests globally in companies whose services or products target specific problems or challenges to generate positive, measurable impact alongside a financial return. Global examples of impact investing include the provision of credit services, education, and healthcare to poor women in small, developing countries. It can also mean the development of bilingual communities in the United States.
Can that be done without sacrificing performance? Over 90% of respondents of the 2019 GIIN investor survey on impact investing reported portfolio performance in line with or exceeding both their impact and their financial expectations.7 In general, impact investing places more emphasis on the achievement of positive impact than on earning a market rate of return.
Performance Relative to Expectations: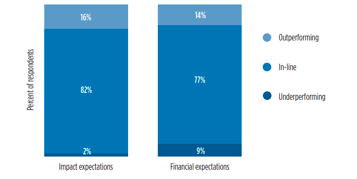 Source: "Annual Impact Investor Survey," Global Impact Investing Network, 2019
6. Religious Theme Investing
Sometimes called faith-based investing (FBI) or faith-based funds, this strategy is generally considered to be the origin of SRI investing. You might think of it as a form of negative investing that screens out companies that engage in activities that are not consistent with a set of religious beliefs. It is also like positive investing in that it includes firms whose activities do not violate the tenets of a given religion.